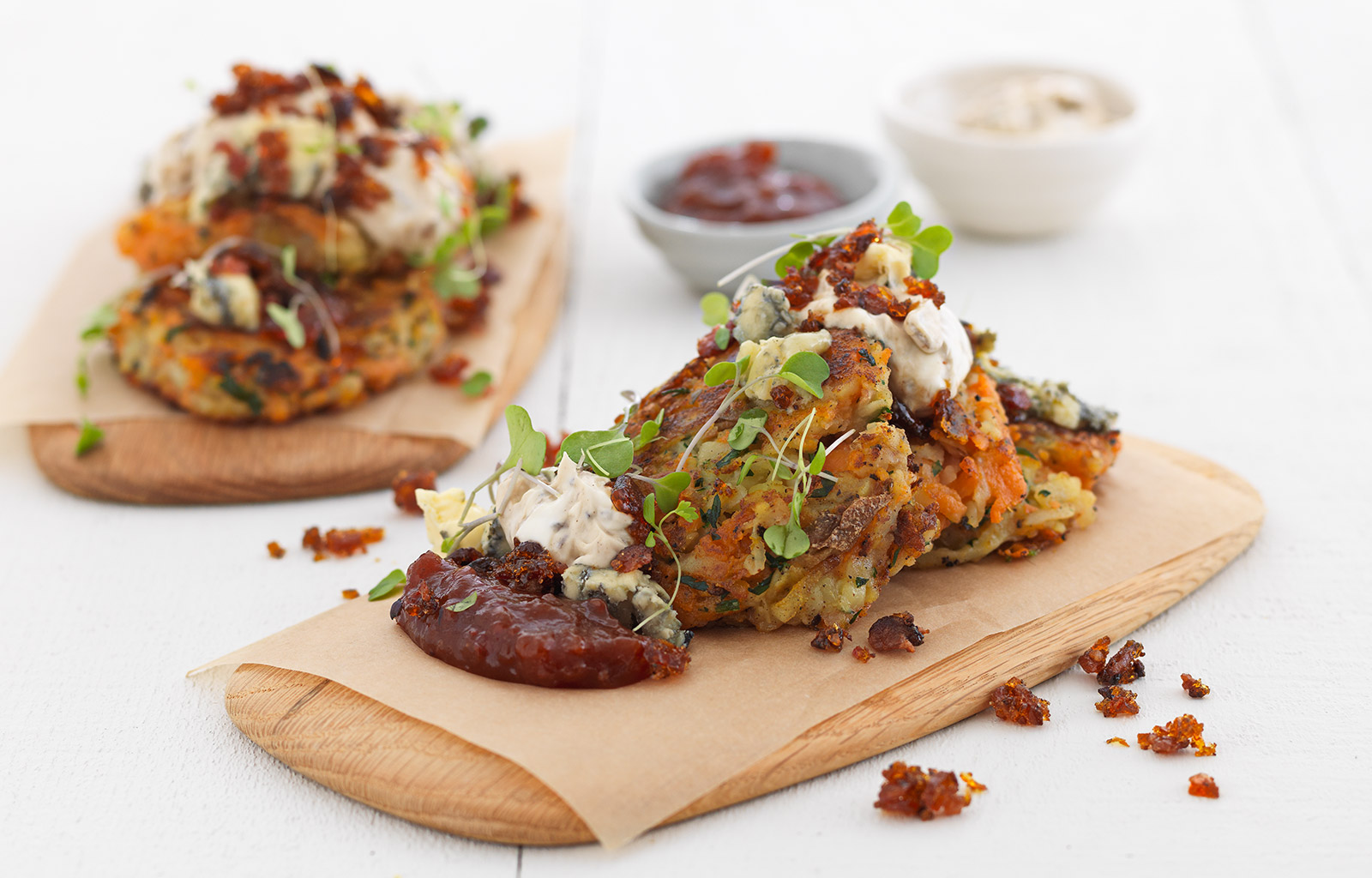 Sweet Potato Hash with Kāpiti Kikorangi Blue Cheese & Bacon

Made with Kāpiti Kikorangi Cheese
Breakfast needs to be fast, efficient but most importantly memorable. Using cheap ingredients supported by a chosen Kikorangi hero showcase that you can achieve a little slice of luxury everyday whilst still maintaining a sense of restraint.
Prep Time
25 MINS
Cook Time
5 MINS
Serves
4
---
Ingredients
2 medium potatoes
2 x medium sweet potatoes
1 tbsp Anchor Unsalted Butter (melted)
Pinch nutmeg
Salt and pepper
4 ½ oz Sugar
10 oz Water
3 ½ oz Streaky bacon (chopped and cooked until crisp)
8 ½ oz Sour cream
1 tsp Pear and Fig Relish
Olive oil
5 ½ oz Kāpiti Kikorangi Blue Cheese (crumbled)
Baby Cress
---
Method
Par cook potatoes and kumara skin on, allow to cool and grate into a bowl, add half of the melted butter, nutmeg, salt and pepper and mix well.
For the praline, add the sugar, water to a pan on a medium heat. Whilst waiting for the caramel, line a tray with baking paper.
Pour the caramel over the tray and sprinkle with salt and crispy bacon bits, once hard roughly blitz to form a gold dust.
Blend together sour cream and the pear and fig relish with a drizzle of olive oil and leave to the side.
Heat a heavy based pan and add a little olive oil and a little butter, take small handfuls of the hash and form patties.
Pan fry on a low to medium heat and flip when golden and crispy.
Serve with a spoonful of the flavoured sour cream, crumbled Kāpiti Kirorangi Blue Cheese and bacon bits.