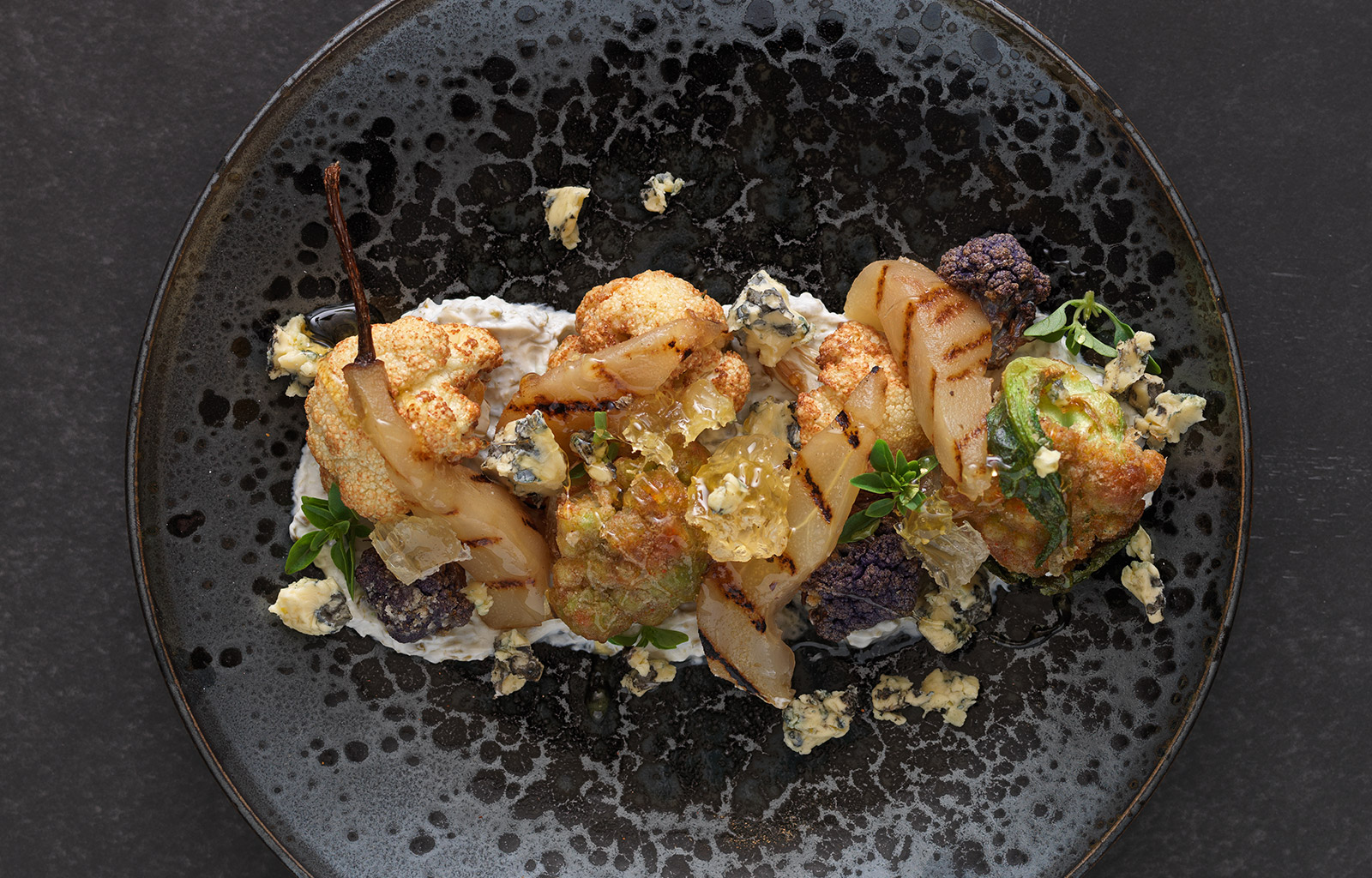 Crispy Fried Cauliflower, Caper Labneh & Kāpiti Kikorangi Blue Cheese

Made with Kāpiti Kikorangi Cheese
nspired by the popularity of southern style creole foods. With smokiness of the pears along with the salty capers, cream blue cheese and finished with the sweetness of the honey really helps to achieve and balance yet exciting offer for both vegetarian and man-eaters alike.
Prep Time
Cook Time
Serves
1 or 2 shared
---
Ingredients
Crispy spiced Cauliflower 
Spice flour 
3 ½ oz Maize corn flour  
3 ½ oz Rice flour 
1 tsp Cumin
1 tsp Hot paprika
1 tsp Sumac
Cauliflower  
6ea Medium florets of white, Purple and green Cauli, blanched
Garnish 
1 oz Kāpiti Kikorangi Blue Cheese 
¾ oz Honeycomb 
1 tsp Manuka honey, warmed 
½ Smoked poached pear, cut into 4 pieces  
6ea Cauliflower florets 
1 tbls Caper labneh 
---
Method
Crispy spiced Cauliflower
Mix spices and flours together and season with salt and pepper.  Dust cauliflower in the flour mix and deep fry at 338-355F until golden brown and crispy.
Garnish
Grill poached pear pieces.
Smear caper labneh on the base of the dish.
Top labneh with crispy cauliflower and pear.
Break Kāpiti Kikorangi Blue Cheese and honeycomb over the cauliflower. 
Drizzle with warm honey