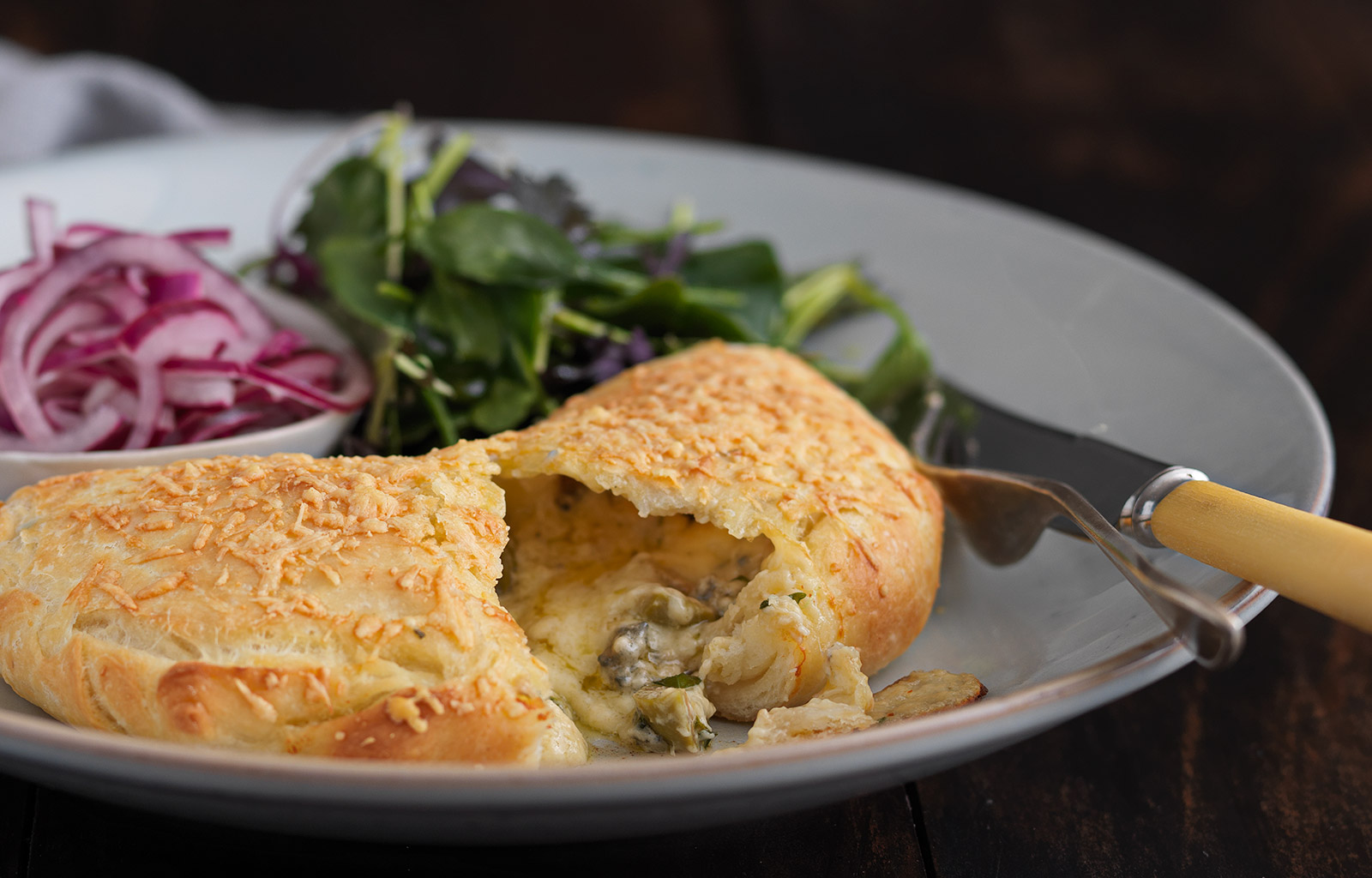 Quattro Fromagio Calzone

Made with Kāpiti Kikorangi Cheese
Using a calzone instead of a pizza base allows something very special to happen, inside the hot pocket of freshly puffed pizza dough a Kāpiti Kikorangi Blue Cheese fondue bubbles away and a cheese celebration begins, this is your new life!
Prep Time
1 HOURS
Cook Time
20 MINS
Serves
6-8
---
Ingredients
1 recipe basic dough divided into 6
Garlic infused oil for brushing
4 ½ oz Anchor Food Professionals Cream Cheese, softened
9 oz Kāpiti Kikorangi Blue Cheese, cubed
4 ½ oz Anchor Food Professionals Mozzarella
3 ½ g green olives, roughly chopped
1 tablespoon chopped thyme
6 tlbs shredded parmesan
---
Method
Heat the oven to 392 F.
Divide into 6 even pieces. Shape each piece into a ball. 
Flatten with your hand then roll each piece into an oval about 4-5mm thick.
In a bowl, mix together the blue cheese, cream cheese, mozzarella, olives and thyme.
Place about 1/6 of a cup of the cheese mix in the centre of each dough oval. 
Fold each oval in half and press the edges together with your fingertips. Crimp the edges so none of the filling can spill out.
Place the calzone side by side on a floured baking sheet, (use 2 if needed). Brush the tops with the remaining garlic-infused oil and scatter each with the parmesan.
Cook for 15- 20 minutes until the dough is puffed up and golden on top. Serve hot with pickle and salad.